Group coaching has many benefits and is something we need to talk about: You know that saying "Two heads are better than one".  Here are some benefits;
You are aligned with high achievers that have similar goals
You gain motivation from the coach and teammates
You brainstorm business solutions in group settings
You benefit from the perspective of others
You celebrate your business wins with a supportive team
You  are matched with  an accountability partner so you are more likely to take action
You can tap into my extensive resources and those of your teammates
You can hire me your  business coach at an affordable rate
The 2nd season of Business Growth Coaching with RiRi has just ended and students benefited from the group coaching. Before Covid19, I would normally host Sales & Marketing Workshops across Nigeria and my audience abroad would ask when they would experience my unique way of teaching. One benefit of the pandemic is that I am now able to offer my services to a global audience through virtual coaching so my students receive a global perspective from each other.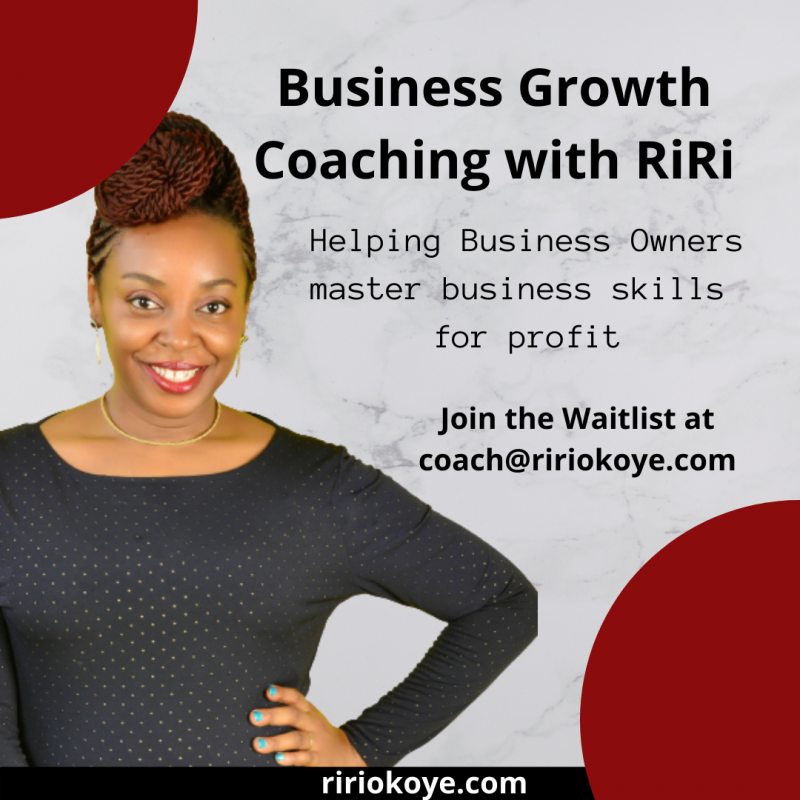 In this season, participants logged in from Nigeria, Ghana, Zimbabwe, and London. Business owners were both service and product-based. The main issues they expressed were not having strong sales and marketing skills which affected their business performance.  I have spent over 25 years in a Sales and Marketing capacity ranging from banking, retail, training, and media, so I coached them with seasoned and new techniques to increase revenues and profits in their businesses. They also gained knowledge from each other which was also beneficial.
I was intentional not to spoon-feed my students with information rather allow them to think critically about their businesses. I believe adults benefit more from critical thinking.
Each week they were given detailed questions that made them think deeply about their businesses and their methodologies. They also benefited from partnering with each other to get more ideas and contributed immensely to the topics at hand. Then in class, I would go over the pre-assignments and expand the topic in depth. They appreciated this unique style of teaching.
Here are some of the comments after each class…   
''The class has been great and has given me a structure to do the things I know I need to succeed.''
''Thank you so much coach for this power-packed coaching and all the information you are sharing with us. I appreciate it…''
''For the first time since I started my business, I have been thinking about it in a more intentional way especially with all the assignments.''
''You are giving it all your all coach: time, resources, expertise, etc. You ain't scared to show your own journey (even the not pretty parts) and I love that. It makes it resonate''
By the end of the coaching, they were loaded with strategies, tools, and techniques to make a great success out of their businesses and I wish them the very best.
Here's what you will get when you join Business Growth with RiRi – Group Coaching
6 weeks of intimate Group Coaching Service with RiRi
Two hours every week of virtual group coaching
Priceless Business Growth Strategies
Power-Packed  Marketing Tools &  Techniques
One hour individual strategy call
Group assignments
Critical thinking tasks
 Marketing Template
Budget Template
Marketing Calendar
Sales Phone Scripts
Grabbing Headline Scripts
Unlimited emails and Whatspps calls
A thriving community ready to help each other along this path (invaluable)
Q&A throughout the period
Bonuses – 6  Business Video Online Courses in Marketing & Sales
Now that's a lot of value right? Yes! True Value N150,000.  I am offering it to you for a N60,000 special offer for a limited season
Here's feedback from some of my participants
" I say a big thank you to you for being a wonderful coach. " Within this season, I've experienced growth (especially financially), visibility and my content has become more strategic. Your coaching skills are practical. Step by step. You show genuine concern and your follow-up is SUPER.
I made up to a 30% to 40% increase in revenue since joining your coaching. It's been amazing. God bless Coach Riri"
Regina Ogbodo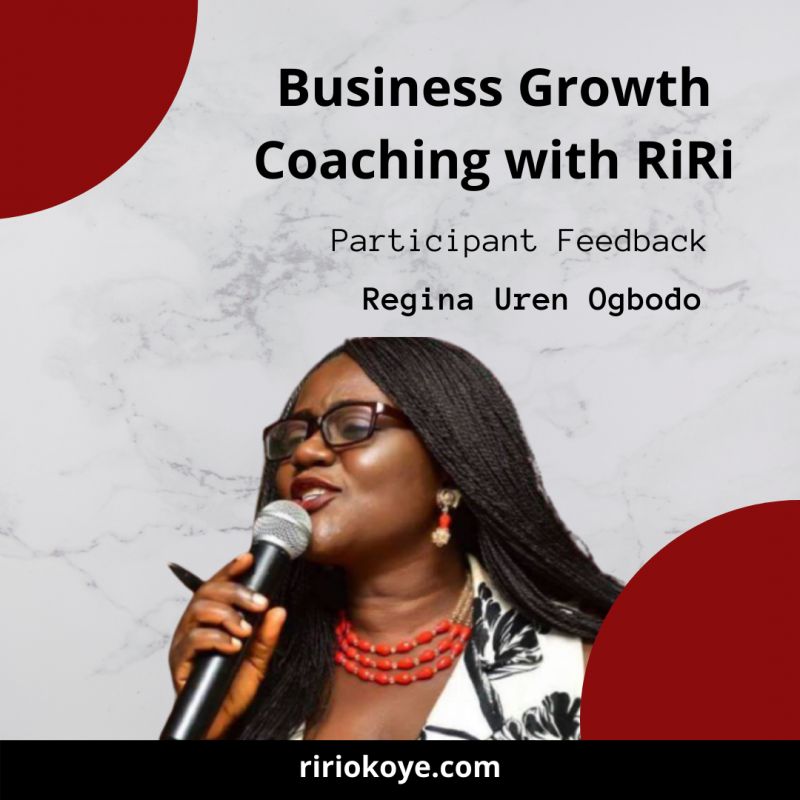 "Riri is a terrific business coach. I thoroughly enjoyed the classes and I learned a great deal from her and other participants in the class. Riri is a great communicator and her exuberant personality made the class very interesting, fun, and interactive. Riri's class helped reinforce important business concepts and teach new ones that have made an immediate improvement to our business. I highly recommend Riri to new, not so new and established businesses."
Victor Ndu, CFA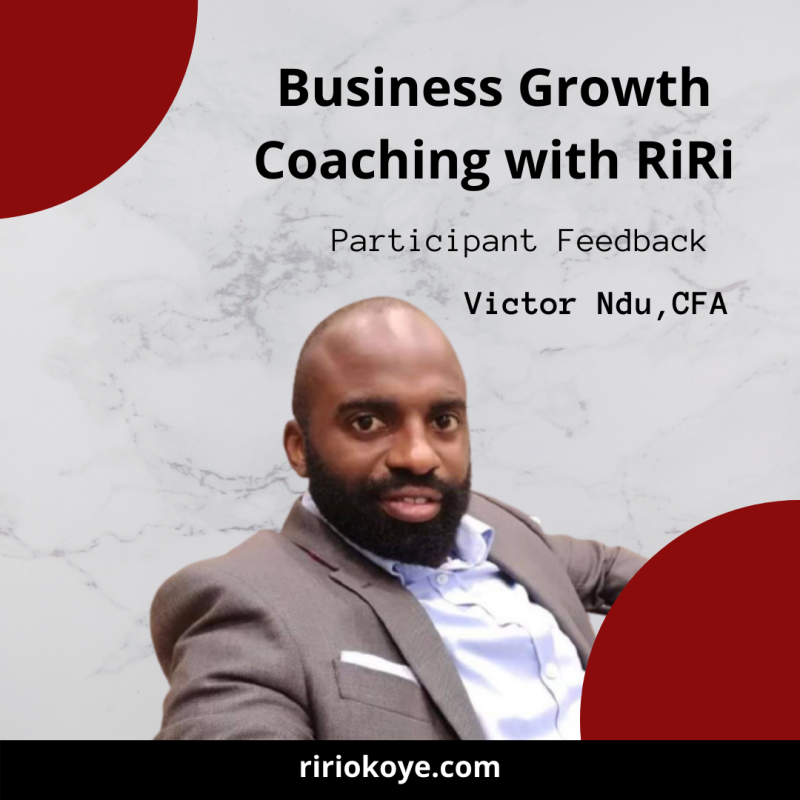 "Thank you RiRi, I enjoyed the business master class. It was insightful, interesting, and engaging. I loved the interactive nature of the class. I learned so much from the course. The materials and videos were helpful and thought-provoking and a must for every business owner who wants to stand out. "
Chizoba Alu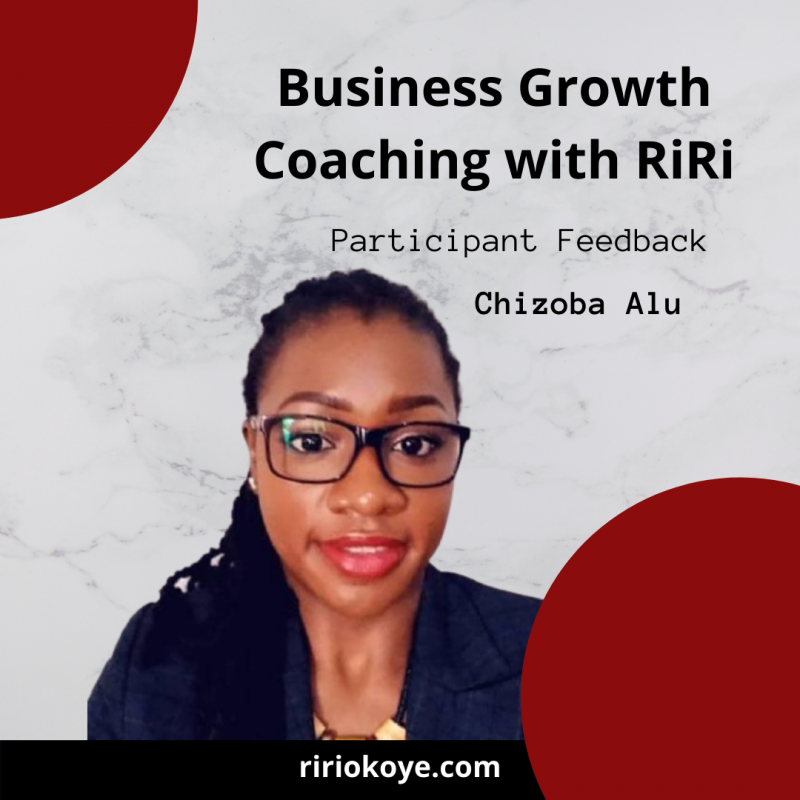 "I recently participated in the just concluded coaching program of Coach RiRi Okoye. The training was intense, deep, expository, and focused on helping me learn how to run a profitable business and put it out there with everything I can muster. Her methodology is not just great, she is also present and available with you along the way. She is involved in the journey and she is genuinely concerned and interested in your progress. So if you want to take your business a few notches higher I would encourage you to sign up for her coaching program. It will be one of the best decisions that you will ever make. "
Marvy Okoro – AUDIO Testimonial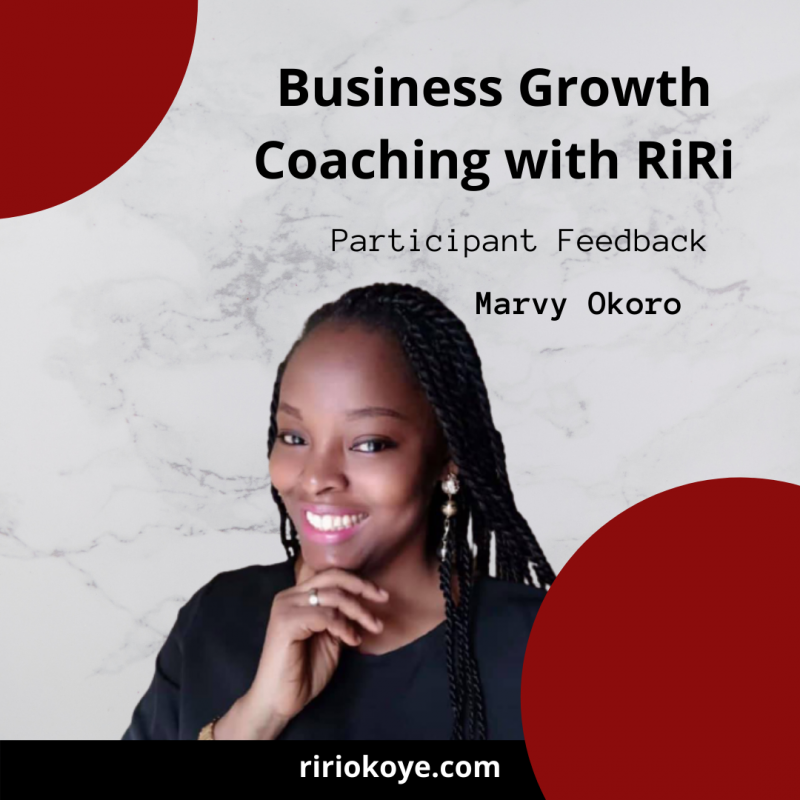 'This coaching program has helped me to really think about my business in a more intentional way especially with all the assignments and this was just in the first couple of weeks into the program. What I also liked about Coach Riri is her authenticity in sharing about her business journey which resonated and made her relatable. And did I mention the resources and expertise she was pouring into the program!!!!!!! One of the things she kept honing in is that not only are we in business to create an impact, we are in business to also get revenue."
Melody Chipo Makuwaza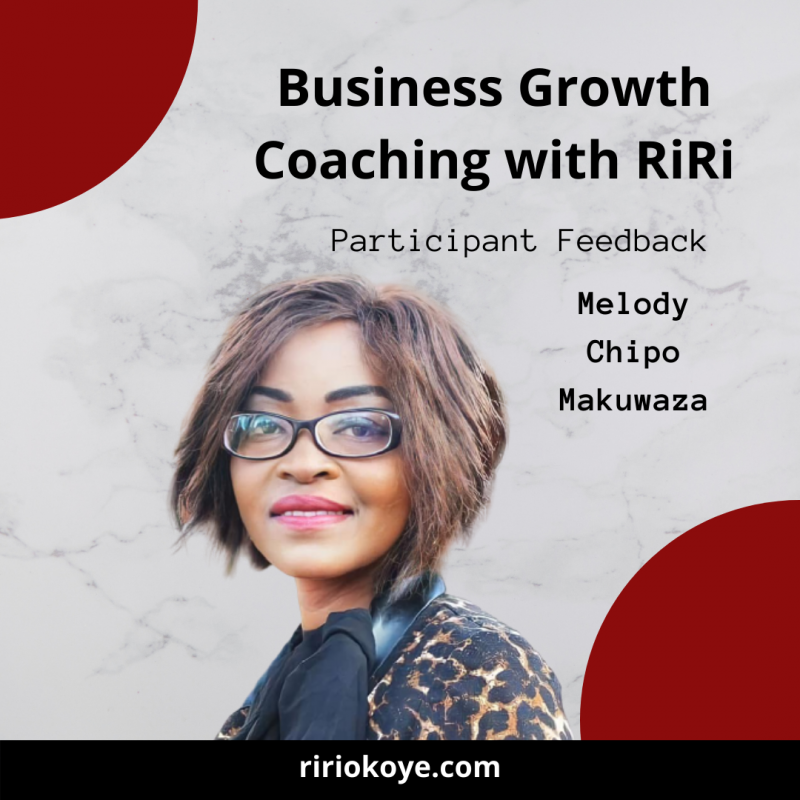 "I am happy I signed up for Business Growth Coaching with RiRi because I got a lot of tools to go back to help improve my business. I especially loved the sales class. It helped me with key buzz words to sell like a salesman especially since I don't have any sales experience. Thank you coach RiRi"
Rashidat Raji – AUDIO Testimonial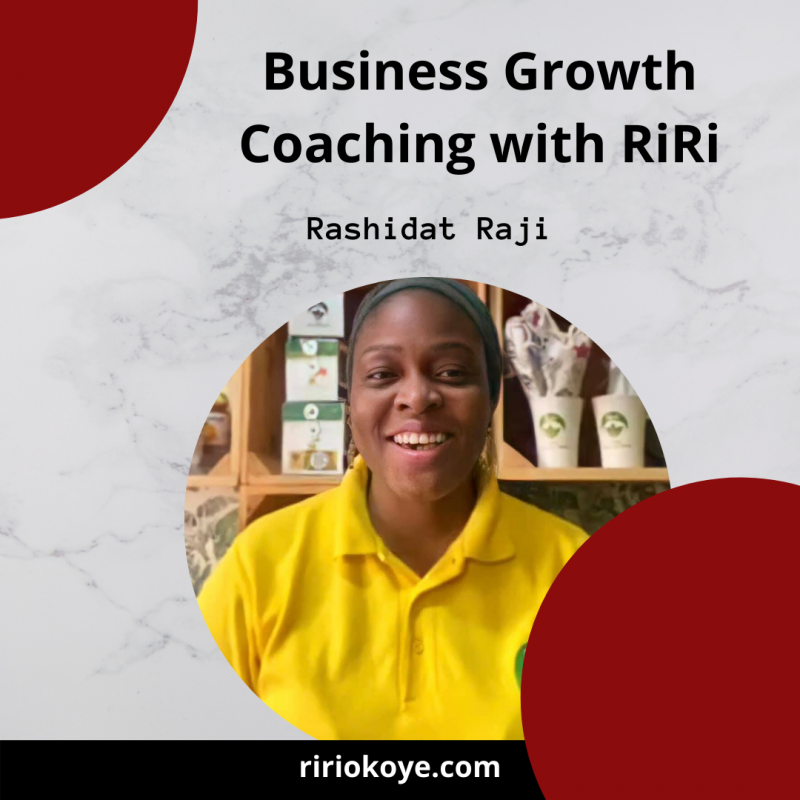 There's also one-month after-care support if my students have more questions and I will be following up in a month to see how they are getting on.
My mission is to empower you with the confidence to master business skills to make PROFIT
Are you ready to take that leap and be part of my group coaching?
I invite to Business Growth Coaching with RiRi
6 weeks of group coaching cost N60,000 special offer for a limited season
Please help me fill out this questionnaire to help me know more about your business
To Join the Waitlist contact me at [email protected]
I am dedicated to serving you
Coach RiRi