Oh that Spirit of Imposter Syndrome! Get thee behind me…
A few years ago,  I lacked confidence as an entrepreneur. I missed out on business opportunities because I didn't confidently demonstrate my value.  At one point, my husband asked me if I was in business as a hobby because I was giving away all my value for free and not making enough revenues.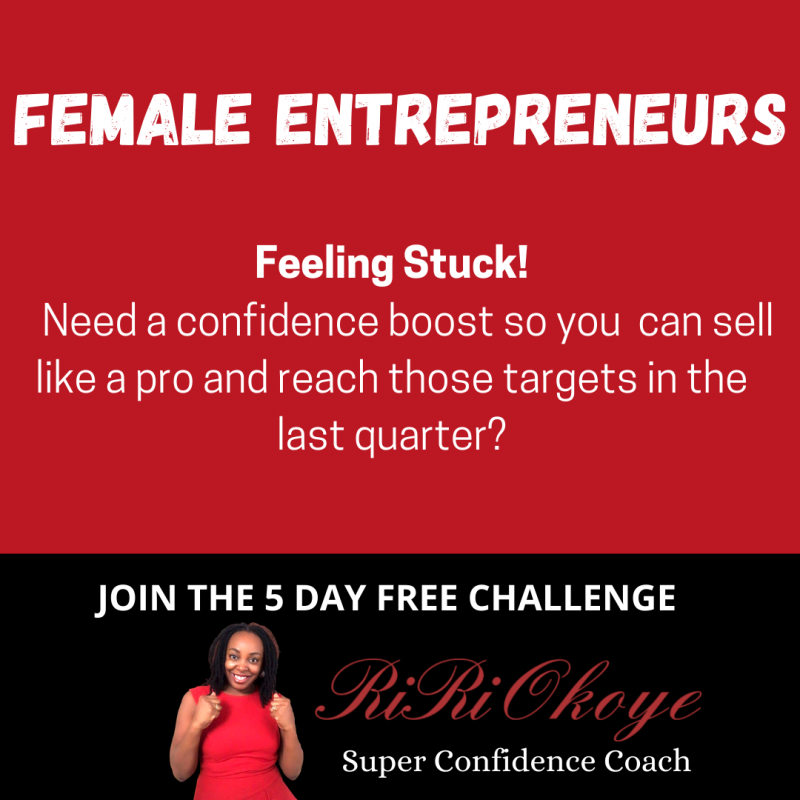 When it came to charging fees, I would always undercharge and end up feeling miserable. But that wasn't the client's fault. It was mine.
I believe a lot of female entrepreneurs suffer from imposter syndrome which is a feeling of not being good enough despite evidence of success. For some, they are afraid of success. Being successful means being seen. One business lady said, she would rather hide in the back of the room than been seen.
I could relate…
Whenever I spoke at a networking event, I was plagued with nervousness. I found myself shrinking around other entrepreneurs. I thought they were better than me. I was comparing my journey to theirs. Year after year, my business was not growing. I was not expanding. Sometimes I wondered if I should just go back to 9 to 5 but suddenly things changed.
I soon realized that despite a lengthy career in Sales & Marketing with some of the top firms in the world like the BBC and Financial Times, it wasn't enough to succeed as an entrepreneur. Something drastic had to change.
And today I am your super confidence coach. I am changing lives and impacting my community.  As an entrepreneur, I deliver events for corporate clients and individuals. I also deliver training on Business Growth, Marketing, Sales, Social Intelligence, Networking, Branding and Social Media to entrepreneurs.  In addition, I deliver experiential Confidence Masterclasses in Lagos and London.
I appear on international platforms like Ben TV to speak about what I do. I don't say this to brag but to show you the possibilities. I am super passionate about teaching female entrepreneurs the tools and techniques to excel in confidence and business skills, so they can soar in their lane. If this is you, then I invite you to my FREE 5 Day Super Confidence Challenge.
What Students say about the Challenge!
I took part in the "Super Confidence Challenge" with Riri Okoye and it was beyond what was expected by all the participants. We were all wowed by the level of professional excellence and generosity as the coaching sessions were free. She encouraged us to be the best versions of ourselves while guiding us with the best possible business strategies through her wealth of experience as a first class entrepreneur. Riri Okoye provided a level of support that one can only get with the best within the industry. Did I mention that all the sessions were free?!
She taught us how to strategically position ourselves within our markets and provide customer service experiences that are second to none. She left no stone unturned as she taught us how to systematically navigate new business grounds from her international and national business marketing experiences from her BBC and banking days in London. At the end, she positively reinforced our new habits by creating avenues for the participants to win gifts. It was a phenomenal experience. Nana Kaiy
I participated in a 5 days confidence challenge organized by RiRi and it was an amazing experience because I learned so much and it boosted my confidence in what I do, in terms of my business and how to handle my clients in any situation I find myself.
Before the challenge, I didn't really know how to get attention from my customers considering that what I am into isn't an exclusive thing, people are already doing it, but with the confidence challenge, it made to understand that as a solution provider I have an edge and unique products that cuts across all spheres of people.
It equally helped me to know how to stay afloat during the economic lockdown of the country because my confidence was doubled and came to play in my business.
It equally helped me to meet different intellectuals from different spheres of business, and we built a network that made us to learn, communicate with each other even after the challenge.
In fact, a whole lot that I am eternally grateful for what RiRi is doing…building up confidence in women. Her passion for the way she does it is intoxicating and I implore every woman, whether you have the confidence or not, to take up this challenge and build on it because no knowledge is a waste.
Thank you, my super confident woman…RiRi. All my love Mitchelle Griffin, CEO of Minoj Honey beans.
I personally encourage other females to take part in the 5-Day challenge as it really brings out the best in everyone who participates. It makes you feel special, it gives you more confidence about yourself knowing that you actually have something to offer to other women/people out there. I love the quote that says, "Women lifting Women"
The challenge helped my business grow in terms of building my  Self-Confidence, knowing I can do some stuff more than before the pandemic. I connected with other female Entrepreneurs who also happened to be my co-challenger.
A whole lot have really improved in my business, working from the comfort of my home and earning massive income even at this pandemic period. I am more confident. The challenge opened my eyes to see the beauty of online, connecting, networking, and building strong relationships with people across the globe. Nkemmara Emmanuel
Challenge starts 24th – 28th August
Simply fill the registration details in the link below