Would you like a quantum leap in your business this quarter? Did you miss out on the last 7 Figure Business group coaching series which was for 6 weeks and ended in March? It's back again and starts on the 19th of April for 6 weeks. It's virtual and takes place on Zoom so you can show up from anywhere in the world.
Who this Virtual Group Coaching is suited for:
Business Owners who are trying to make that quantum leap
Business owners who have been in business for a year or more
Full-Time employees who want to grow their side business.
Business owners no matter what you're selling and regardless of your business industry
Business owners who want to work on their business.
The 7 Figure Business Coaching is focused on helping business owners take a quantum leap in their business using tried and tested strategies.
By end of Virtual Group Coaching
Set actionable short and long term goals and REACH THEM
Master your mindset, stay motivated, and follow-through
Find clarity about your business ideas and goals
Stop wasting time and laser focus on income-producing results
Navigate roadblocks, get unstuck and strategize solutions
Identify your ideal client and sell to them
Find the right pricing strategies for your business
Improve visibility of your products and services
Write epic marketing copy and sell your product or service
Increase your revenue and profits
Quantum leap your existing business or idea
Testimonials from Virtual Group Coaching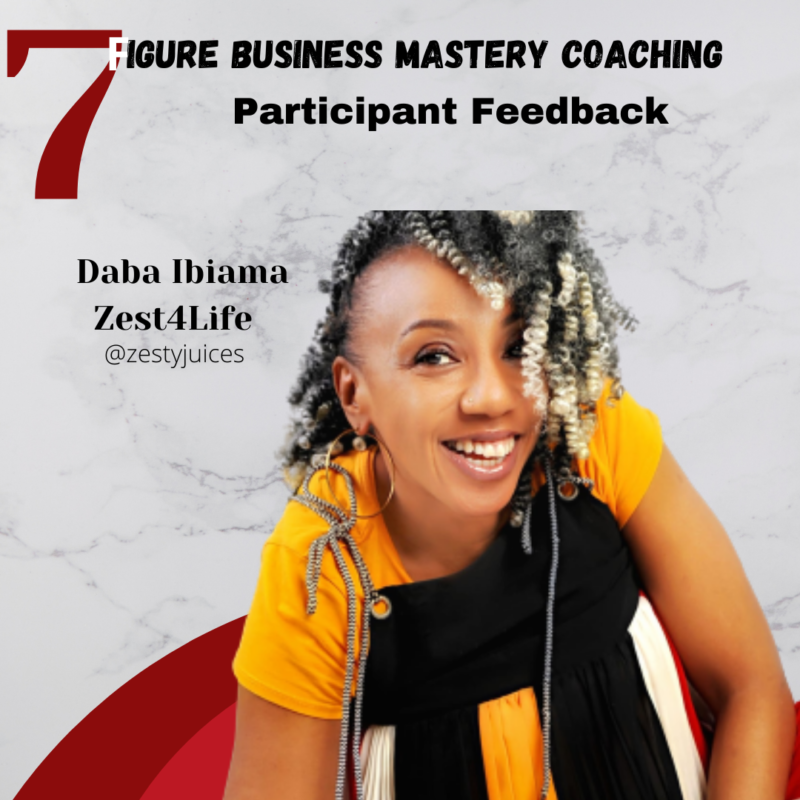 The reason I came to RiRi's coaching is that I had no clear vision on marketing the business effectively. She boosted our confidence with the information she shared with us. Giving us step-by-step guides to help us face the challenges. RiRi was good she was very personal with every one of us. The Monday zoom meetings were very enlightening and gave me the information I can use. The assignments were thought-provoking as well. RiRi is easy to relate to, she shows empathy and understanding good listener, and willing to help when she can in and outside the coaching circle. Since engaging her services, I am doing more videos implementing storytelling in my marketing and can see more engagement and creating a marketing plan. Daba Ibiama, Lagos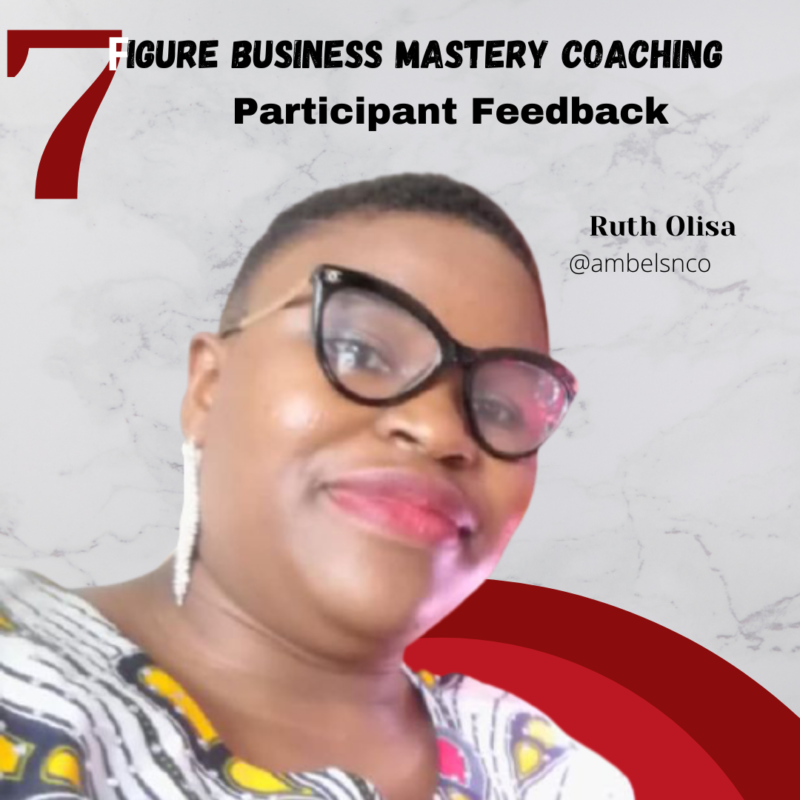 "I came to RiRi because I wanted to build a brand, balance quality & growth in my business. She helped me overcome my challenges by talking us through all the materials she provided and hold us accountable when weren't following the plan. Working with RiRi was phenomenal. The sessions were very interactive with excellent communication. The best thing about working with RiRi is her simplicity, a genuine coach and she's determined to help others. Through her coaching, I discovered how to identify my ideal clients, where and how to find them. Now I am advertising more to reach my ideal clients, working on my pricing, and rewriting my mission statement. I would recommend RiRi with a Capital YES! I gained a lot from her training and she also helped me connect with the right people/groups for my business. I can never forget that. Ruth Olisa Luton, UK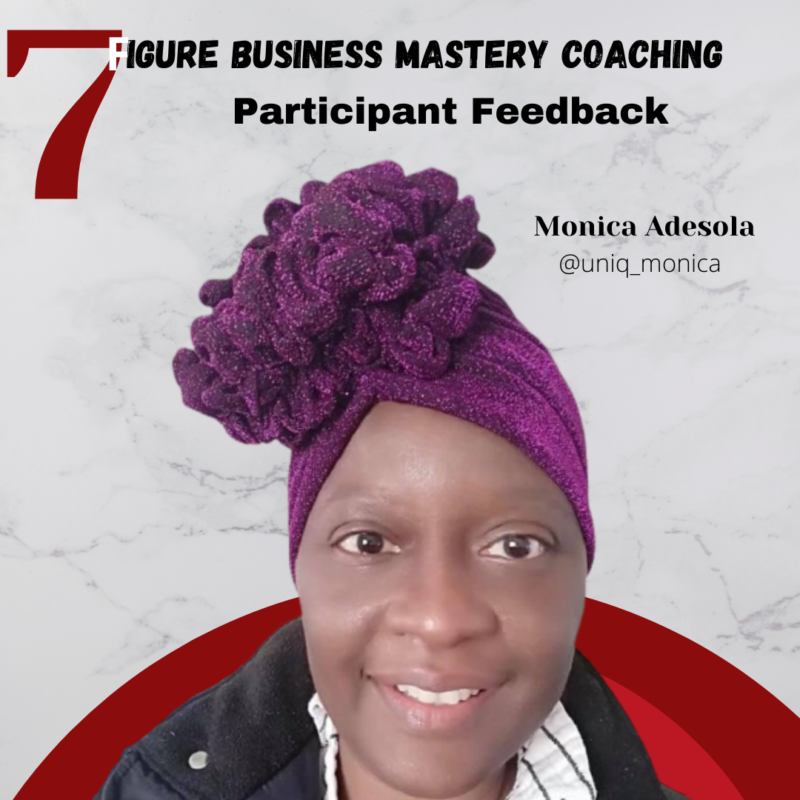 The key issue that led me to seek business coaching with RiRi was marketing, especially on Social Media. My experience working with RiRi was a very enlightening and eye-opening experience. She's ever ready to guide one, has a listening ear, and is ready to pass on her experience to one. I'm working on putting life into my social media exposure and organising more campaigns. Aside from the coaching, the video lessons are top-notch, I found them very useful and informative. I would recommend RiRi Okoye because she's very approachable and you can see she's passionate about one's success.'' Monica Adesola, Canada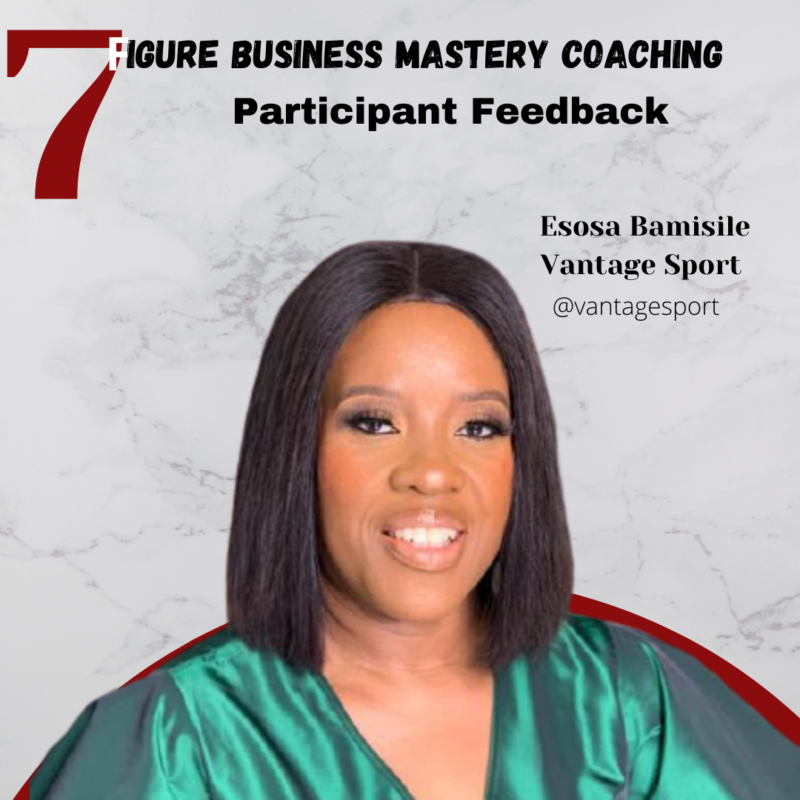 We were on a quest to continuously improve all around and grow our business, in this regard, the course opened our eyes to many areas of marketing and branding where we could vastly improve our profile and visibility. RiRi Okoye has a way of expanding the theories, breaking them down, and causing them to appear simpler and more achievable. She's a great teacher, patient, and always ready to help even one on one. She's relentless and pushes hard. She's also very generous with knowledge and tips. I would recommend Rita to my business network and also the fact that she's committed to the success of her mentees.  Esosa Basimile, Lagos
Virtual Group Coaching Outline
Week 1. Vision – Create a 7 Figure Vision For Your Business
Week 2. Strategy – Cost Structure, Pricing Strategies & Revenues Streams
Week 3. Audience – Understand Your Customers
Week 4. Marketing – How To Reach Your Customers
Week 5. Branding – How To Stand Out In A Crowded Market
Week 6. Sales – The Best Sales Techniques For Online and Offline
Virtual Group Coaching Value
Group Coaching Service includes 6 Live Success Group video sessions
with RiRi (Value N60,000)
One hour strategy call ( Value N20,000 )
A thriving community ready to help each other along this path (invaluable)
Group assignments which are marked by me
Growth Material, Templates & Cheatsheets (Value N20,000)
Bonus – 6 Business Video Lessons (Value N18,000)
Bonus – 9 Video lessons on Inner Confidence – (Value N27,000)
The true value of this course is N145,000
However, you won't be paying anything near that amount. I am offering this to you for only a fraction of the normal investment because I want to make this accessible for as many entrepreneurs as possible.
Its N45,000 until the 14th April and then goes up N60,000
There are only limited spaces and The 7 Figure Business Mastery Coaching starts on the 19th of April.
You can pay via this link
Or kindly make a transfer, Rita Okoye, Access Bank 0768329696, and send evidence of payment to me at [email protected]
If you have any questions do reach out to me at [email protected]
I am dedicated to your success
RiRi